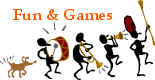 SSS Online is your RF, Wireless, and SS Source!



Topical Menus:
This site is managed by:

Pegasus Menu
Contact Us

Search SSS-Mag
Custom Search
Leave a Comment
Sign our Guestbook

Visit our Sponsors:

Spread Spectrum Scene
Fun & Games
HELLO and WELCOME to our Fun Topics Page. Try out a few of our entertainment options -- No one should work all the time! The Web is not only a great resource for work, it's a great place to play, too. So sit back, relax, and have a little fun with the resources listed below.
Fun Pages
NOTE: Our site was too large, and we have had to eliminate our games FTP area in order to keep our webhosting costs in line. We apologize for any inconvenience.
Explore Some Other Fun & Entertaining SSS Pages

Tel: 865-717-9339 || FAX: 865-717-9904 || E-Mail:
This site &copy 1995-2009 by SSS Online, Inc. All rights reserved.
Revised February 27, 2009