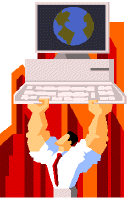 SSS Online is Your SS, RF & Wireless E-zine!

Topical Menus:
This site is managed by:

Pegasus Menu
Contact Us
Search SSS-Mag

Custom Search
Leave a Comment
Sign our Guestbook

Spread Spectrum Scene
E-zine Menu Page
The box below lists pages that relate to the Spread Spectrum Scene Online E-zine. Pages highlighted in blue are index pages that link to multiple old issues.
Related Topics
If you're interested in our E-zine features, you might also be interested in these other SSS Online topics or some of the other subjects listed in the left hand column.
Spread Spectrum Scene Online is managed and maintained by Pegasus Technologies. Click to find out more about our RF, Wireless, and advanced digital/FPGA design consulting services. We can help you get your quality RF products to market!


Visit Pegasus Technologies!

Tel: 865-717-9339 || FAX: 865-717-9904 || E-Mail:
This site &copy 1995-2009 by SSS Online, Inc. All rights reserved.
Revised February 26, 2009