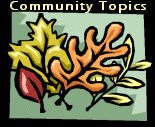 SSS Online is your RF, Wireless, and SS Source!





Topical Menus:


This site is managed by:


Pegasus Menu
Contact Us

Search SSS-Mag
Custom Search
Leave a Comment
Sign our Guestbook

Visit our Sponsors:
Spread Spectrum Scene
Community Topics




"Community" means many different things -- but a sense of belonging is central to all of them. We at SSS Online consider ourselves a part of the worldwide community of RF/Wireless/Electronics engineers and companies, but also we are a member of our own local community in East Tennessee. In this section of our website, we address both types -- the left column in the Community Topics Menu Box below addresses our professional community, while the right column covers our own personal, local community.


Contents of This Page

Community Topics Menu Box || Related Topics Menu Box
Infoseek Desk Reference Information






Community Topics Menu Box











Related Topics Menu Box







Refdesk
Refdesk.com is the single best source for facts on the Net; a one-stop site for all things Internet: news, weather, sports, reference, encyclopedia, facts on file, FAQs, tutorials, search engines, Win95/98/2000NT, free stuff, games and much more. Over 20,000 quality links.



Tel: 865-717-9339 || FAX: 865-717-9904 || E-Mail:
This site &copy 1995-2012 by SSS Online, Inc. All rights reserved.
Revised March 15, 2012