| | |
| --- | --- |
| | Spread Spectrum Scene |

About Spread Spectrum Scene Online
Contents of This Page
Highlights || The Leaders || SSS Buttons
Related Topics
The SSS Online Story || Our Website Awards || SSS News


Publication Name: Spread Spectrum Scene Online (SSS Online)

ISSN 1066-0550

Business Type: An Online Publication which is Owned by SSS Online, Inc. and Managed by Pegasus Technologies, a spread spectrum, RF, Wireless, and advanced digital/FPGA design consulting firm.

Contacts:

Spread Spectrum Scene
254 Babb Road
Lenoir City, Tennessee, 37771
(865) 717-9339

What SSS Is: SSS is known around the world as the leading website on spread spectrum.

Management Team:


Jim Pearce, Chief Technical Editor
Karen Edwards, Webmaster
Danny Simpson, Contributing Editor simpsond@usit.net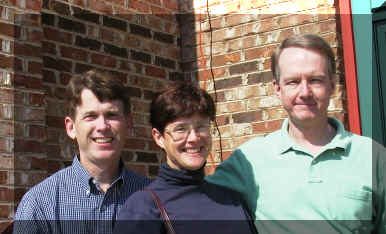 Jim, Karen, and Danny staring at the sun...
Spread Spectrum Scene Online (SSS Online) -- The best website dedicated exclusively to the art and science of Spread Spectrum digital communications. SSS Online is targeted for the Spread Spectrum professional and is committed to being the primary source for the latest news and information about the growth, regulation and opportunities in this developing technology. As an online, web-based source of technical information, SSS Online also covers the fields of RF and Wireless with a depth that is hard to find on the Internet. Even between new issues of the E-zine, SSS Online provides worthwhile browsing and reference material use, since there are so many informative pages of useful information to peruse.

Spread Spectrum Scene presents industry news, new product information and applications solutions in an easy to read, concise format. Technical contributions and user oriented articles are welcomed. News and press releases will also be published on an interest, time, and space available basis.

Jim Pearce is the chief technical guy behind SSS Online. He has over thirty years in the field of RF and Spread Spectrum Communications and possesses a wealth of System, RF and practical experience. To find out more: Read Biography of Jim Pearce.
Danny Simpson is a contributing editor and partner in SSS Online, Inc. Danny has many years of experience in electronic engineering product development. He is also an associate of Pegasus Technologies. To find out more: Read Danny's Resume.
Karen Edwards is the webmaster for the site. She is the person primarily responsible for day-to-day operations, fixing broken links, accepting advertising, technical writing and editing, and graphic design. If you have problems with the site, send her an E-mail at .

SSS Buttons -- Explore a Few of our Features

Tel: 865-717-9339 || FAX: 865-717-9904 || E-Mail:
This site &copy 1995-2008 by SSS Online, Inc. All rights reserved.
Revised August 3, 2008