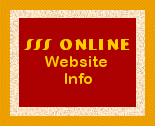 SSS Online is your RF, Wireless, and SS Source!





Topical Menus:


This site is managed by:

Pegasus Menu
Contact Us

Leave a Comment
Sign our Guestbook

Visit our Sponsors:

Spread Spectrum Scene
Welcome to SSS Online!

We welcome you to Spread Spectrum Scene Online, the Number 1 online web resource for information about Spread Spectrum, RF, and various wireless technologies. Our pages are filled with useful tutorial, how-to and reference information for the working RF / Wireless engineer, student, or interested layman.

Spread Spectrum Scene Online is brought to you by Pegasus Technologies, an independent new product development and consulting firm dedicated to helping clients design and develop new Spread Spectrum, RF, wireless, FPGA and advanced digital designs, circuits and systems. We also offer customizable microcontrolled RF modules, excel in design reviews and mentoring, and analyze and troubleshoot existing client designs. We concentrate our efforts in the areas of Spread Spectrum, wireless design, RF / microwave circuits and systems, RF design and FCC Part 15 unlicensed products. For more information, click on the icon to the left (the horse's head with the sine wave for a mane), or visit our Pegasus Technologies menu page.

Navigation Tools
All pages in our site are organized into 16 main topics -- these are the 15 links you see on the left of the home page and to the left on this page, and the Pegasus Technologies icon just underneath the links. For a complete list of pages under each of these topics, press the appropriate link and you will be taken to a menu page for that topic.

Each topical menu page has a left hand menu bar (similar to the one on the left) with 15 buttons, a Pegasus Technologies icon, and a site search/web search box. The buttons list the 14 other topics and a link back to home. Pressing the "section icon" at the top of the menu bar will also take you back to home.

Each of the subordinate pages has the section icon at the top of the page as well; pressing it will take you back to the section menu page. Some of these subordinate pages, such as this one, also have a left-hand menu bar, while others have a limited selection of navigation buttons other than the section icon. One of these buttons will always take you "Home" to the SSS Online main page.

For a complete description of our navigation system, please visit our Navigation Page.



While you're here, why not explore one or more of these selected SSS Online Topics?


Tel: 865-717-9339 || FAX: 865-717-9904 || E-Mail:
This site © 1995-2008 by SSS Online, Inc. . All rights reserved.
Revised October 30, 2008